Text

204-406-8985
To book your next appointment by text simply message the number above on your mobile device.
Email

bellezamente@gmail.com
Email us with the date and service you would like to book and we'll get back to you shortly.
Phone

204-785-1515
Call to book your appointment now. If we're unable to answer please leave a message and we'll get back to you asap.
SUBSCRIBE
Never miss another Giveaway, Sale, special promotion or last minute deal at Belleza again.
Important Changes to Visit Card Promotion
Due to the unforeseen circumstances and impact from Covid 19 to our business we are no longer able to offer this promotional card as is.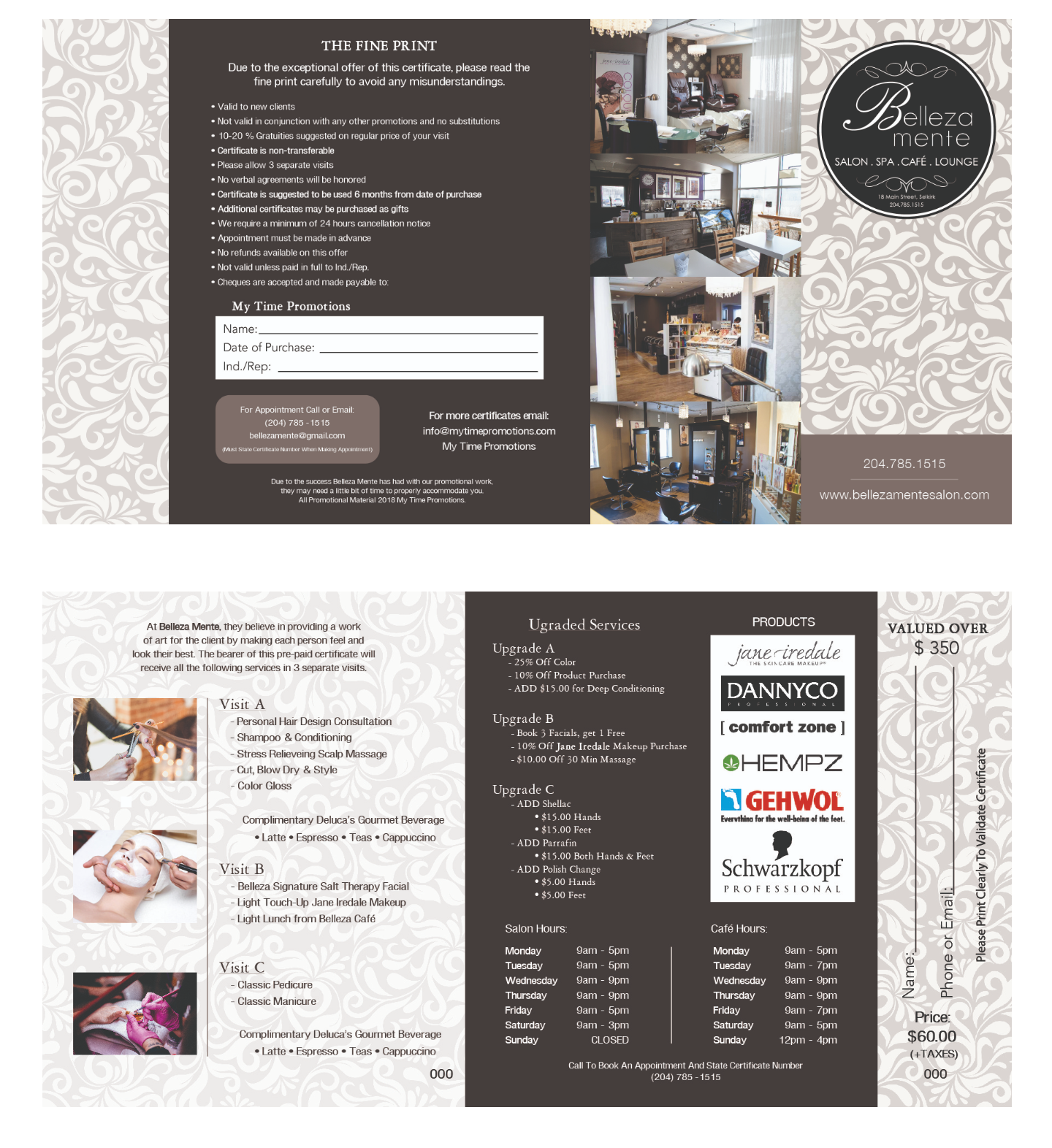 We do however understand your disappointment with this but appreciate your business and understanding during these difficult and uncertain times. We have made some adjustments in order to honour this promotion the best we can .
We hope you can understand that this is very difficult for us but we appreciate your support and want to do all that we can to accommodate our customers at this time.
Thank you for your cooperation and understanding we look forward to seeing you.
Visit Card Updates
Visit A - $30 off when you have a Color & Haircut (price varies from $65 & up depending on type of color )
Visit B - $30 off Signature Facial (Reg $110 Now $80 with coupon)
Visit C- $30 off Spa Pedicure & Spa Manicure (Reg $97 Now $67 with coupon)
If you are unsatisfied with this as an option you may contact My Time Promotions by email to discuss further: info@mytimepromotions.com
*NOTICE : These coupons cannot be combined with any other gift certificates or promotions from Belleza Mente Salon and Spa.
They also no longer come with complimentary beverage or lunch.